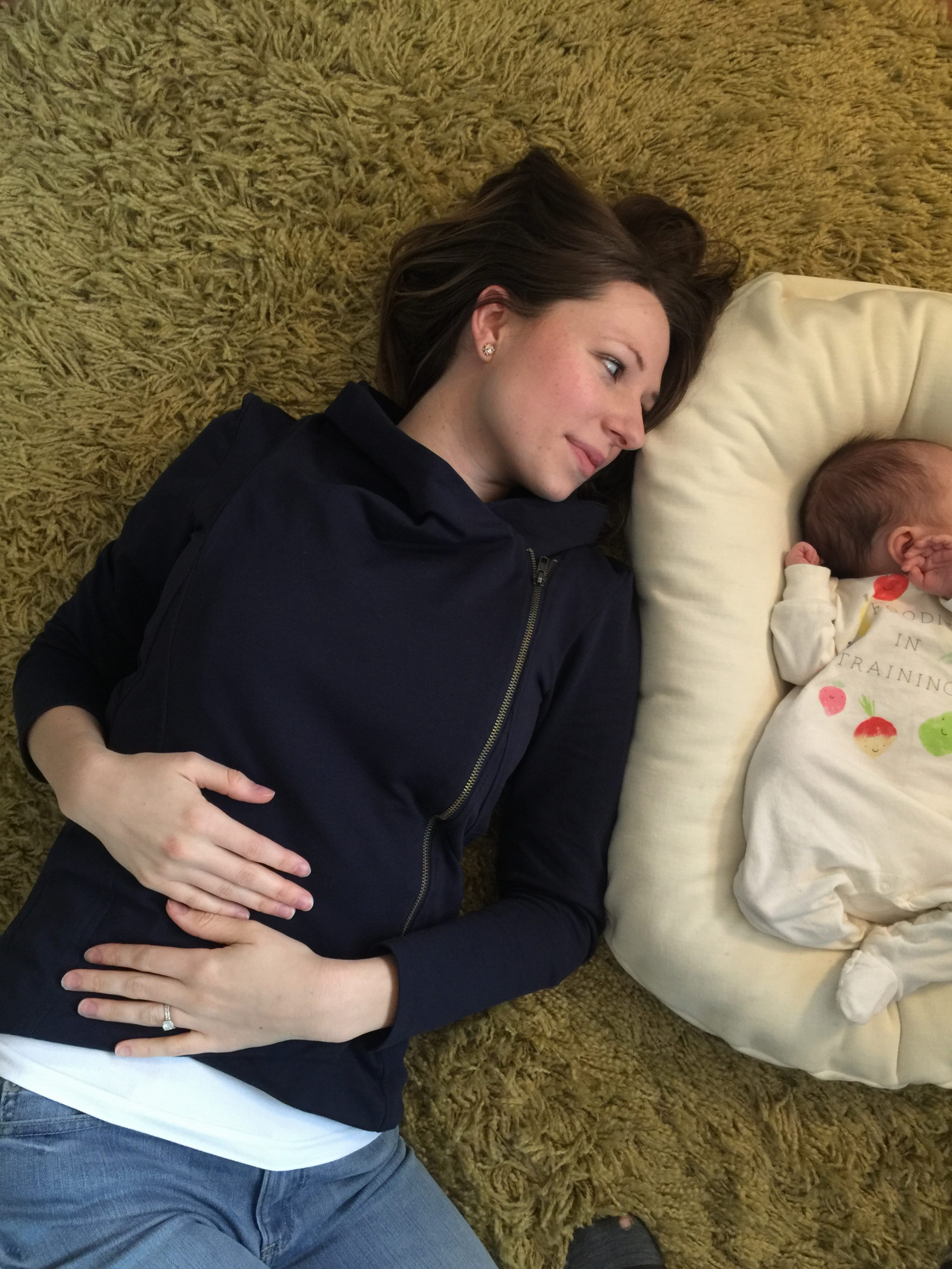 I'm starting to type this blogpost with my little one, Ottava, sleeping beside me in the Snuggle Me Organic. It's ironic I guess, but maybe our night of trying to get to bed inspired me to start the post now. In any way, it was quite the bedtime over here tonight. We had a poop incident which resulted in a full change of clothes, sleep sac and a load of laundry going downstairs in hopes to salvage everything, especially our beloved sleep sac. Tonight Ottava wasn't having the crib (we have one at the end of our bed) and after the poop we were all tired. So Daddy's on a work trip so the girls are taking over the king sized bed–Snuggle Me and all.
PS. Before I start, there's a coupon code at the bottom of this post
Let's start from the beginning and rewind 5 months. I had this beautiful newborn baby who I never wanted to put down, yet wanted us all to get the best sleep we could. Sound familiar to any other mom's out there? We started parenthood with no expectation of what our sleep would look like with a new baby. We knew for sure we weren't comfortable having her in her room in her crib, but we didn't know if we would use our co-sleeper attached to our bed or end up having her in the bed with us at night. I knew in the first few days I wasn't comfortable with her sleeping in bed with us. Both Phil and I are heavy sleepers and didn't feel comfortable with us, the blankets and our little baby in the same bed. Some people are totally comfortable with their babies in bed with them, but I wasn't. I know co-sleeping is safe when done right but I knew I wouldn't sleep well if she was next to me.
I wanted a solution and knew the bed cushions/ co-sleeping cushions were popular. I took my way-too-tired self and did some research/ asking around for the brands people recommended. I was told I had to try a Snuggle Me Organic. I loved that the product was organic, safe, and they were even close by where I live in Minnesota. I contacted the company and had one shipped to our house. I was so excited to give it a try, but also a little nervous to see if Tava actually liked it or not. I'm going to give you a little spoiler alert here–She LOVES this thing! It goes on our top 5 baby items list we have! I've posted a lot on Instagram about the Snuggle Me.
Enter the Snuggle Me. When I first got it I want to give you my real time thoughts. It was a little smaller than I thought it was going to be. I was worried she would grow out of it really quickly. The other thought was that it looked kind of fluffy like it wasn't going to be safe for her to sleep in. I'm telling you my thoughts because they may be yours too. But I worked through them and want to tell you how I got to adoring this sleeping cushion. Let's talk about the size, Tava's sleeping in this right now and she's 5 months old. I don't have a huge baby, but she's not small. She's 15.5 lbs and in the 85% for height. And I think we have at least a month more of comfortable sleeping in it. Plus, Snuggle Me can custom make a larger one as your baby gets bigger. There's a part of me that wants another one, but I'm still thinking on this one.
Secondly, let's talk about safety. This cushion is safe. If a company is marketing a co-sleeping cushion for night sleeping, it needs to be safe. That was one of the biggest factors for me getting a bed sharing cushion. When I first opened the package I was shocked at how cushy the cushion looked (can I put those words together?). When I say cushy I mean it looked like if Tava turned her face to the side it would be right against her face. I knew, because of my research and taking with the owner of the company, that it was safe. And guess what? With Tava's first nap in it she turned her head to the side with her arms up and her nose and mouth weren't even close to the sides. As she got bigger her head is even farther from the sides and I don't even think about it anymore.
When Ottava was a newborn I wanted her napping closer to me. I wanted to keep my eye on her, and let's be honest, I wanted to check to see if she was still breathing about every 25 seconds (First time mom confession over here). We used her bassinet from her stroller as something she could nap in around us. She really loved that. But it was bulky, heavy and wasn't easy to transport around the house. This is where the Snuggle Me came in. It's super light weight, easy to carry in one hand when you've got a baby in the other, and is comfy. Let's just say that Tava took a lot of floor naps in her Snuggle Me when I was in the kitchen and she was next to me in our hearth room. I loved that she was safe, snuggled up, and I was able to keep my eye on her at the same time. We did a lot of naps where I held her or we napped together. But often she slept better and longer when she was next to me in her Snuggle Me.
One of my favorite non-sleep uses for the Snuggle Me is in the bathroom. Do you know how much bathroom floor time our Snuggle Me has encountered? A lot. I love taking baths. It may not see a connection to baths and this cushion, but stay with me. I feel like a human when I get a bath in the morning. It's a mix of feeling clean and relaxing all at the same time. Some of the newborn days I was able to get up in the morning before Ottava and get my bath in. Others I slept in or Ottava woke earlier. Dad was at work and I needed my bath. I would grab the Snuggle Me and put it next to the bath while I got some relaxation time in. Sometimes it wasn't too relaxing, let's be honest, I had a newborn. I may have taken a bath a few times while nursing her in her sleeper without getting her wet. Other times I was able to take a great bath while she played next to me. It may not seem like a big deal, but I felt better than putting her on the floor and Ottava was a lot happier too.
Snuggle Me organic makes 4 different cushions. They are all constructed the same, what differs is only the filing. We have the Snuggle Me Wool. They have an Original, Pure, Organic and Wool. There's one that will meet your needs perfectly.
There's a part of me that is excited my child is growing up and growing out of her Snuggle Me. I'm sad to be putting the Snuggle Me into baby storage with our other retired things. But we have used this so many times and so thankful we have it. I also am kinda looking forward to knowing we have the amazing Snuggle Me waiting for baby #2. You know, when the time comes. And trust me, that's still a few years away.
Snuggle Me Organic Coupon Code: MB15 (15% off)
Go to the Snuggle Me Organic website
The coupon code is MB15 and needs to be entered in ALL CAPS
You will also need to write the code MB15 in the Buyer's Notes
This coupon is good through the month of August 2016
Our Snuggle Me Videos
Snuggle Me Organic provided this cushion for me to review. The review is 100% my own opinions and thoughts 
Join Dr. Meghan's Insiders
Don't miss out on anything! Join my healthy living newsletter for encouragement right to your inbox to kickstart your health in a simplified way!