Let me start out by saying I wasn't planning on having a c-section birth. Never did I think I'd be typing up this post and saying we choose a cesarean. If you're like me, you're most likely facing a change in your birth plan and feeling a little scared or apprehensive about the future. I get it. Maybe you're researching all about c-sections because if you happen to find yourself in a position to have one you will be well researched on what happens and how the birth happens. You could also be like me and have a breech baby which opens up a whole host of changes for your birth plan. 
I want you to know that even with a cesarean you can still have a beautiful birth and make it as natural as possible. A cesarean was not my plan. I wanted our beautiful, peaceful, and serene homebirth. I didn't want the breech baby/ cesarean story to tell. But, guess what? I have it, so I might as well tell my story and help as many people as I can in the process.
What is a gentle cesarean? You may be thinking  why on the world would I call it natural? It's surgery. There are drugs and incisions involved. That's anything but natural. I totally understand. But you can make a medical surgery (cesarean) made into the most physiologically natural birth for you and the best for your baby. My OB told me that it's a birth first and a surgery second. That's the basis of what a gentle or family-centered cesarean is. 
Did you know that I was a cesarean birth? My mom needed to have surgery to reconstruct her uterus to have kids. She was the first person to have her surgery and I was the first baby to grow full term in a reconstructed uterus. Because they didn't know how her uterus would handle it and grow, so her OB said no labor and they scheduled a c-section. My mom's csection 30 years ago was vastly different than mine. For her it was surgery first. She didn't get to have a say in it, and didn't know what was going to happen. When I was born I was taken away from her for 2 hours and she didn't get to meet me, hold me, or feed me. She still didn't know what they did with me while she was on recovery. This is still how many cesareans are still done in our country. Perfectly healthy babies are whisked away from mom so that the surgery can be finished and mom can recover. It's a big separation between mom and baby. And it feels very surgical versus being a magical birth where mom (and dad too) get to bond with baby. Why are C-sections done this way? It's because it's how they've always been done I guess. Traditions die hard.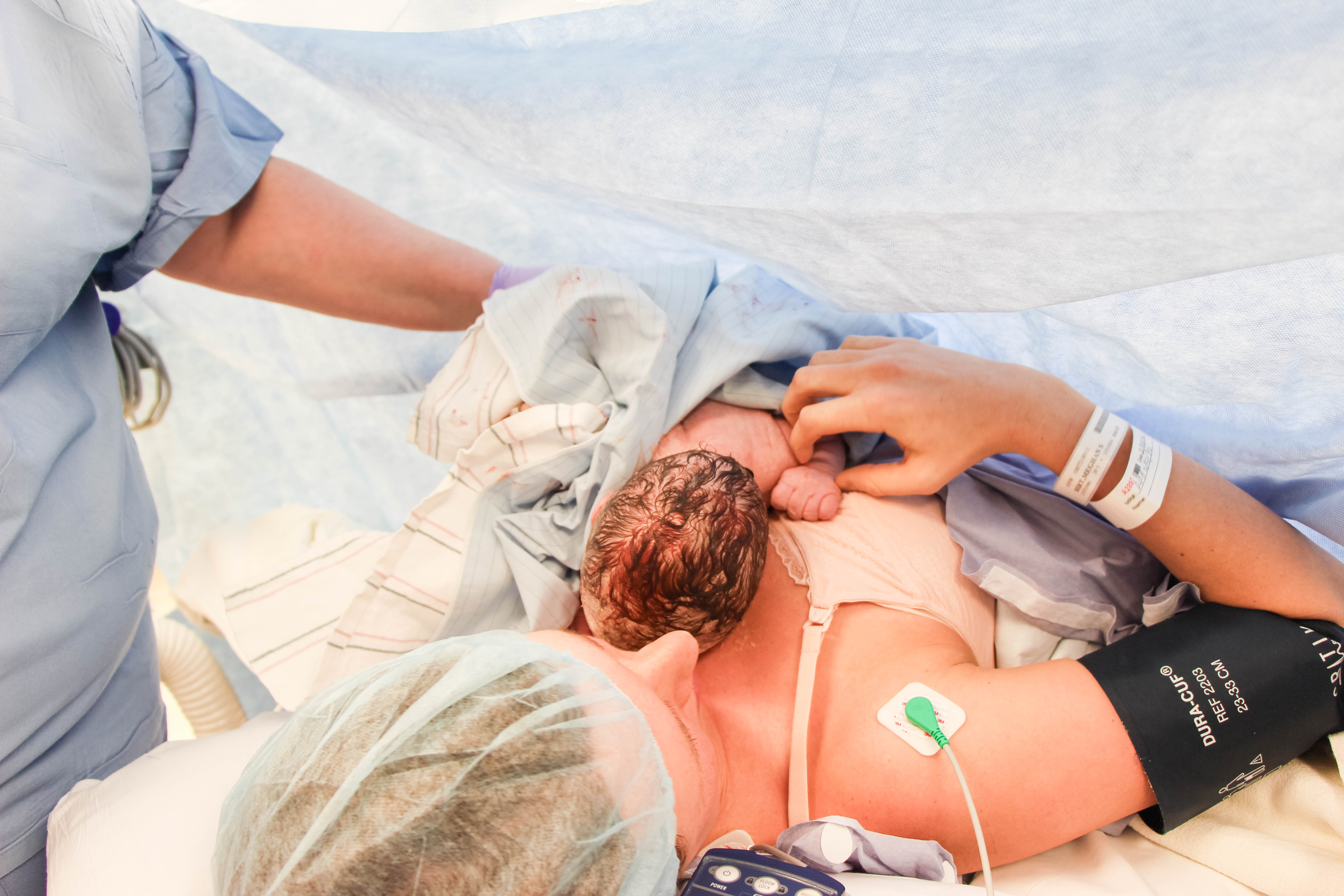 The nurse is helping place Ottava on my chest because she was tiny, slippery, and I was in a very weird position
What is a gentle cesarean?
Just like I said before, what makes a cesarean birth gentle and natural? Birth first, surgery second. The actual procedure doesn't change. But the main thing is that the focus of the OB, nurses, anesthetists, and anyone else in the room is that birth is happening and a baby is being born. It is focused on the bonding of the mom and dad to the baby and also puts the needs of the baby before the rules and customs in an operating room. Here are some things that make a cesarean more gentle and family focused: 
Baby is brought to mom's chest and can stay there the rest of the time in the OR. I had Ottava on my chest about 4-5 minutes after she was born. We waited 60 seconds for delayed cord clamping and she was brought to me. We did skin to skin for the next 30 minutes until the surgery was done and I was stitched up.
No newborn procedures are done right away, as soon as possible the baby is handed to mom. Ottava got a quick pat down and lightly wrapped in a blanket and brought to my chest. I unwrapped her so she could be on my skin and used the blanket on top of her. OR's are cold, so she needed a little blanket because I couldn't move enough to wrap her in my arms and keep her warm all on my own. But skin-to-skin is so important for a baby and the mom's body helps to regulate baby's body temperature and they work together. It also encourages the best breastfeeding relationship for the future.
Delayed cord clamping (up to 60 seconds). This allows baby to get some of the cord blood and iron stores versus clamping the cord and cutting right away. They timed the 60 seconds out perfectly when Ottava was born. They said they couldn't do more than 60 seconds because of my open incision and they needed to get that closed up. Also, I asked if they could keep Ottava attached to the cord and placenta, like we were planning on doing at home, and they said it wasn't an option with the way the surgery works. It was a question I'm glad I asked and also glad she got 60 seconds of cord blood.
The option and ability to breastfeed if the baby wanted to in the OR. Ottava didn't want to, but I offered. I wanted to make sure that if she was hungry, she knew she could eat. It's very awkward trying to nurse when you're on your back and can't move, but I tried. She nursed the whole 2 hours in recovery though and was so hungry and content there.
Pictures can be taken, often times a photographer can be in the OR or the nurse anesthetist can take pictures. Our birth photographer was not allowed in the OR because I could only have one person (and obviously Phil was the #1 choice). Because surgery was going so well and I was stable, the majority of our pictures were from our nurse anesthetist. And he had a lot of fun snapping pictures, which is quite typical in a c-section, but obviously not in any other kind of surgery.
Clear drape so the mom can see the baby vs being closed off from baby. I guess I was one of the few people who has requested the clear drape. When you're on the OR table and leaned slightly back there's not a lot you can see. But when she was about to be born they lowered the drape and I could see through the clear plastic when the doctor lifted Ottava up and I could see her beautiful face, count her toes, and see she was a girl. We weren't sure if we were having a boy or girl. And that memory is so special. When they brought her over to the nurse I could see her the whole time while they were prepping her to be put on my chest.
Mom's hands are not strapped down and free to move. Hands being strapped down was not something any of the OB's did in our group. They've never done it and thought it was unnecessary and way too surgical feeling. My mom remembers her hands strapped down and I know it's still done in hospitals today.
No extra drugs are given to mom to make her drowsy or not as alert and present. I asked this of my OB and the anesthetist when I met him. Both of them said no additional drugs are given other than the spinal block unless needed. I wanted nothing to make me groggy or less alert during the birth of my baby. Still, ask about additional drugs given. You will be very tired post-cesarean anyways and you won't want any meds to increase that. Right before surgery a prophylactic dose of antibiotics are given via IV. I asked if I could opt out of this and my OB explained because of the large size of the incision, you want to have the antibiotics because of the risk of post-op infection. I understood that and just mega-dosed my probiotics before and after the surgery.
You can save the placenta. I didn't have my placenta encapsulated, but we still took it with us in case we wanted to after the birth.
Baby is present and bonding with you in the recovery room. Post-surgery you need to be monitored closely in recovery for 2 hours. Often mom's are separated from their babies for the whole 2 hours. It was standard practice in our hospital for baby to be with mom, but it's common in other hospitals baby is sent to the nursery and is given a bottle of formula. The only time I was separated from Tava was when Phil took her in her bassinet into recovery a minute before me because they needed my hands free so they could transfer me from the operating table to the bed that could be wheeled out. Once I was in the recovery room I took Ottava back and she nursed for the entire 2 hours we were in there. It was a fun family bonding moment. I couldn't feel my legs and was checked on every 15 minutes (with the uterine fundal massage that hurts so badly), but somehow I have the most fond memories of those 2 hours. They were the first moments of our family!

I barely remember the rest of the surgery. All that was important to me was my baby GIRL was on my chest!
Questions to Ask your OB
I asked my OB every question I could possibly think of about a cesarean. I wanted to know every detail so on the day of Ottava's birth I would be prepared and know exactly what I was going through and would happen next. I wanted no stone unturned. This is where my story differs from a lot of other mom's cesarean stories. I had time to process the magnitude of feelings I felt as I prepared for her birth via cesarean (And I processed a lot of emotions through much frustration and many tears). Often times mom's are rushed into a c-section and for that situation I can only imagine the magnitude of feelings a mom would have. I asked all of my questions (and then some) over the course of 4 visits with our OB. Her answers were amazing and I felt comfortable and at peace about being under her care.
We found our OB and met her when I was 37.5 weeks pregnant. It took me about a week to find an OB that had good recommendations for being pro-gentle cesareans. I had no where to go. We were planning a homebirth and had our amazing and wonderful midwives doing all of my prenatal care. I knew I had to find a great OB because I was mourning my homebirth and being at home with 2 midwives I trusted so deeply. I got many recommendations for a group of OB's in our area and specifically with one of them who had rave reviews. She was amazing. Seriously I can't say enough good things about her.
The first questions my OB asked me was "How are you feeling about a c-section?". She was always so focused on how I was doing and the questions I had. She barely focused on the baby because she knew we were being seen by our homebirth midwives and trusted their care (also some major bonus points for our OB!). If you're OB isn't willing to answer your questions about a gentle cesarean or you feel like you have to fight to be heard, it is OK to switch doctors! If you're healthy and your baby is healthy, that's all that matters. Not the opinion of some doctor on what they prefer doing. As long as everyone is healthy, a gentle cesarean is better for mom and baby and it's ok to fight for your best birth!
We had 4 different appointments with her and these are the main questions I asked:
Can I go into labor on my own? This was my biggest question for our OB and one of my biggest preferences if I was going to have a c-section. I knew how she answered this question was going to determine ho well we jived. I had asked the OB who did our External Version (ECV) and he said "no" to going into labor, and that a c-section is scheduled at 39 weeks (which is the normal for a breech birth). As much as I liked him, I didn't go with him for our surgery. My OB asked me why I wanted to go into labor. I told her I wanted my body and my baby to decide when the time was to be born. I wanted the catecholamines to be present to protect the baby as much as possible. And selfishly, I wanted to go into labor and feel it a little bit. After I explained my WHY to the OB. She said "absolutely" and just warned me not to be in active labor before coming in for the c-section because that will make things harder and more stressful for everyone and she wanted the best birth experience for us. Here is an article explaining the benefits of catecholamines in labor and why it's actually healthier for a cesarean with some labor.
Can you do delayed cord clamping? There is robust evidence showing a benefit to the the baby with doing delayed cord clamping. There is up to 1/3 of the baby's total blood in the cord that, when left to pulse, makes its way into the baby. It protects from potential anemia and is extremely beneficial if there's any sort of resuscitation needing to take place with the infant because of the oxygen in the cord blood. It is also shown to bring significant benefit to premature babies. All babies should have as much delayed cord clamping as possible. 60 seconds is better than 0 seconds, and that was the maximum they would wait to clip the cord in the OR.
Is skin-to-skin possible in the OR? The biggest factor that makes a cesarean gentle is the skin-to-skin time spent between mom and baby in the operating room. And getting the baby to mom's chest as soon as possible. This was also common with our group of OB's. We took it a step further and wanted to get Ottava to my chest as quickly as possible. I would have loved if they could have handed the baby right to me over the curtain but they have to maintain a sterile zone. That means the doctor hands the baby to a nurse (using sterile blankets) and then pass the baby to me. We wanted no newborn procedures done, not even weight taken, and wanted to keep any of her vernix on her body. I wanted to mimic the quickness of getting a baby to my chest as I would in a vaginal birth. You can say no to all procedures as long as the baby is doing well. You can always go back and have them done, or opt out of them completely.
What medications are given? Is it a Spinal or an Epidural? The majority of cesareans are done using a spinal block. It is one injection and doesn't have a continuous line like an epidural does. A spinal is what I had. And there can be often times additional pain meds added so you are the most comfortable 24 hours after surgery, which is important with needing to care for a new baby. If you were laboring with an epidural and needed to go forward with a cesarean, they may use your epidural because it is already in place.
Does the baby ever leave me? Ask this question. Things happen quickly in an OR and you don't want a time where the baby goes with Dad or that the hospital policy is that the baby is separated from the parents until post-recovery. You want to know the plan with your new little one. Like I said before, because I knew I needed to be transferred beds and I couldn't hold the baby during that, she would be with Dad going into recover about a minute or so before me. And she had to be pushed in the bassinet because hospital policy is if the baby is out of the room they need to be in their bassinet.
Are they using Sutures or Staples? Do they Self-Dissolve or Need to be Removed. This is good do know so when you look down at your incision you aren't scared because you see staples. Most of the time we assume stitches will be used. It's also good to ask if they are self-dissolving stitches or if they need to be removed in the hospital before you leave? My stitches were self-dissolving and because I didn't need them removed we got to leave the hospital a day early. We only spent 2 nights in the hospital and not quite 3 days. Normally, they want you to stay a total of 3 nights but we were ready for home and our own bed.
What is recovery like? I saved this question until the end because it's a loaded question. And to fully answer it, I'm writing a whole additional post. This was a question I had and searched for hours trying to find resources and experiences and found very little. I want to give you my insight from going through it.
What Was My C-Section Experience Like? 
If you want to read the whole birth story and why we chose a cesarean with our breech baby, you can read Ottava's Birth Story HERE. But outside of the whole story, I want to give you an inside look into the c-section. I had a hard time finding out what I'd go through from blogposts and I want to make sure I answer the questions you may have.
My water broke and I started early labor when we got to the hospital. I told you I asked if I could go into labor first and my OB said yes. We knew if I went into labor I may not have had the OB we were seeing, but it would be someone from our group of OB's. I decided going into labor trumped my perfect plan of having the OB I knew best. I got the doctor (she is a DO) on call and she was amazing too!
Before the cesarean they take you into a pre-op room. It's mostly so you can meet the entire team and talk through the process. They put in your IV, get you ready in your gown, and talk through everything and answer questions. It took about 1 hour to go through that process. I loved that I got to meet the nurse that was going to be taking care of me the most and the anesthesia team. Then the first time I met them wasn't in the OR.
The biggest thing with getting prepped for a c-section was being separated from Phil. They had me in the OR by myself to get the spinal put in and all prepped for surgery. The spinal was the thing I was the most nervous for and I thought it was going to be extremely painful. I honestly didn't feel a thing. They inject a numbing drug before the spinal and I didn't even feel either of them. They hooked up my blood pressure cuff, the monitors on my shoulders/ chest, put in my catheter (which thankfully I didn't feel, the thought of that still makes me a big squeamish), cleaned my skin and prepped the area, and put up the surgical drape. I was away from Phil for about 15-20 minutes. During that time he got his scrub suit and mask on. When he joined me in the OR they were ready to start the surgery and Ottava would be born in just minutes. The baby is born within the first 5-10 minutes of the surgery and the remaining 30 minutes are to remove the placenta and close the incision.
They started the surgery and we found out we had a girl about 10 minutes later. Before she came out they lowered the blue drape so I could see through the clear plastic. I couldn't see much but did see her when the doctor lifted her up for me to see. It was the best moment and completely seared into my memory forever. They waited the 60 seconds before they clamped and cut the cord and then the doctor handed Ottava to the main nurse. She took her over to the warmer and very quickly put her in a couple of blankets and brought her to me. That total time was about 3-5 minutes.
I loved having her in my arms after she was born. I couldn't imagine it any other way. I don't feel like I missed any time with her or she got robbed of skin-to-skin contact with me like she would have with a vaginal birth. I would have loved her umbilical cord attached once the placenta came out, but it's ok. It wasn't possible and I know in the grand scheme of her life, it's a small thing. It was a little awkward holding a newborn on your chest when you're laying on your back. She kept sliding towards my neck and I had to re-adjust her. But I couldn't believe I was holding our daughter and that made me so happy!
When they were stitching me up I could feel nothing other than a burning sensation on my left side. It was just uncomfortable and threw me off because I wasn't expecting to feel anything. My spinal was working right, it wasn't pain, but it did surprise me. It was nothing to worry about and was most likely the stitches on that side of the incision. That was the area on the left side that was the tightest post-surgery and where I felt the most tugging and pulling sensations for the weeks ahead as I was healing.
After the surgery was done Phil and Ottava went before me into the recovery room. I will tell you this. Make the most out of recovery. It's a beautiful time of quite where we could soak in our first times as a little family. It was very medical and the nurse would come in and check on my every 15 minutes. Do a uterine fundal massage, make sure my uterus was contracting, ask me if I could move my knees or feet yet (nope, that block was strong). But we wanted to make the best of those first moments regardless of what was going around us. And that's exactly what we did. The recovery room is good and peaceful and before you know it you'll be in the postpartum room and there's a lot more people.
My Birth Plan
I typed up a birth plan for our OB and for the doctor who did our surgery. They scanned it and put it in my file along with us talking through it with them. I wanted to make sure all of the nurses, anesthetist and doctor were on the same page. And they were, everything went according to our birth plan. And for that I'm so thankful.
I have a copy of our birth plan linked below. Feel free to use the outline if you need to create a cesarean birth plan of your own.
Gentle Cesarean Birth Plan Example
Resources:
Join Dr. Meghan's Insiders
Don't miss out on anything! Join my healthy living newsletter for encouragement right to your inbox to kickstart your health in a simplified way!